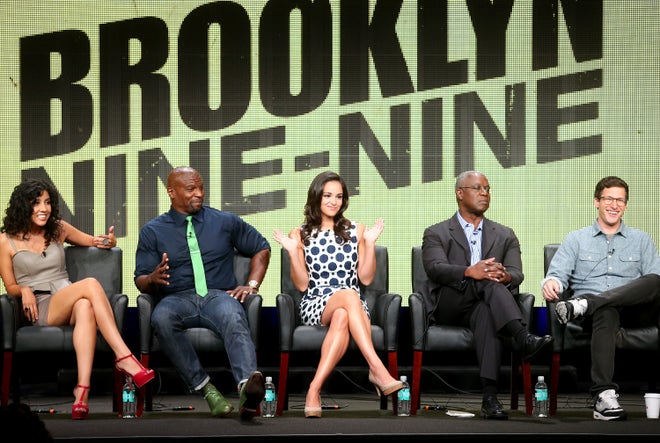 This week kicks off the premieres of this year's fall season shows, and the representation of Latino artists is at an all-time high.
More than 20 shows in all major networks will feature at least one Latino actor or actress in lead or supporting roles in both returning and premiering shows.
One show – "Welcome to the Family" starring Justina Machado and Ricardo Chavira alongside Mike O'Malley and Mary McCormack – has five Latino stars leading the way. The series premiere for the ABC show is Oct. 3 at 8:30 p.m.
Although this is not groundbreaking – that title could go to "Ugly Betty" – it highlights the changes that are happening in the industry as recent as five years ago.
"It's a good year for us," said Alex Nogales, president of the National Hispanic Media Coalition, attributing the trend to a growing number of network Hispanic decision-makers people pushing for greater representation on screen.
"Every year we've been getting more Latinos both in front and behind the camera," he said.
Starting off the season is "The X-Factor," premiering Sept. 11 on Fox with Demi Lovato and Mexican pop singer Paulina Rubio as judges. The network is offering a double-dose of the former Disney star, who will also be guest-starring on "Glee," premiering Sept. 26, for a six-episode stint playing Naya Rivera's love interest.
Challenging "The X-Factor" is the NBC's "The Voice" featuring returning judge Christina Aguilera. The talent-search show premieres Sept. 23.
New shows featuring Latino actors this season include "Brooklyn Nine-Nine," "Dads" and "Enlisted" on Fox; "The Michael J. Fox Show" on NBC; "Betrayal," "Trophy Wife," "The Goldbergs" and "Super Fun Night" on ABC; and The CW's "The Originals."
Bel Hernandez, president and CEO of Latina Heat Media, which tracks Latino representation in entertainment circles, echoed Nogales, adding that 10 years ago a network did not have Hispanic "approved talent" that could carry a show or movie. On the other hand, Latinos who could pass as being non-Latino (like Charlie Sheen, whose original name is Carlos Estevez) changed their names to reach a greater audience.
Read more: http://latino.foxnews.com/latino/entertainment/2013/09/09/this-fall-tv-season-has-greatest-representation-latino-actors-characters/#ixzz2eVbnSRsO